Citizen Programs
Citizen Programs

House Checks

- Police will check on your property when you are out of town.


Community Care Program

- Police will check on elderly or disabled residents.


Neighborhood Watch

- Community Volunteers reporting suspicious behavior. Click here.


Volunteer

- Volunteer to assist the Police with non-hazardous duties. Click here


Internship

- Gain valuable experience in Criminal Justice by interning with us.

Coffee with a Cop

- Sit down with the Chief & discuss issues, concerns, or suggestions.


Jumpstart/Car Unlock/Tire Change

- Vehicle assistance for residents of Graham on city roads (waiver form req.)


TPO Assistance

- Police will assist Graham residents with obtaining a Protective Order.

Operation Christmas Cop

- Police Officers spreading holiday cheer!

Safe Trade Program

- The public may conduct legal transactions in the police parking lot (i.e. Craigslist Sale) Click here

Police Presentation

- The police will speak at your next community event.
If you are interested in participating in any of these programs, please stop by our office or call us at (912) 367-6900 or email the Chief. You may download and complete the applications below or stop by and we will provide them for you.
---
* OPERATION CHRISTMAS COP *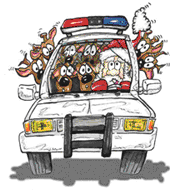 Between November 28, 2019 and December 25, 2019 the Graham, Georgia Police Department will be spreading holiday cheer. City Police Officers will be handing out holiday gifts instead of traffic citations. But we need your help to raise enough funds to purchase gifts for the community. Your contribution will fund gifts that will be delivered to people this holiday season in lieu of receiving a traffic citation. Please help us give back to our community. NOTICE: This does not mean that we will not be enforcing traffic laws, issuing citations, or making arrests during the holiday season. Serious traffic violations observed by our Police Officers will result in enforcement action.